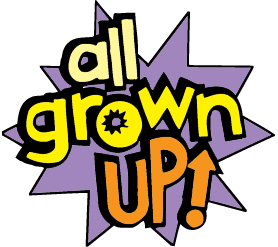 RUGRATS HISTORY
---
1991

August 11- Rugrats debut on Nickelodeon.
---
1992

September 13- "Chuckie vs. The Potty." It's the first time Chuckie uses the potty.

December 6- "The Santa Experience." Charlotte, Angelica's mom makes her debut.
Rugrats wins its first Emmy for Outstanding Animated Daytime Program.
---
1993

January 10– "Meet the Carmichaels." This is the first appearance of the Carmichaels -- Randy, Lucy, Buster, Alisa, Edwin and, of course, Susie.
October 3- "Chuckie's First Haircut." In this episode we discover that Chuckie is afraid of spandex.

October 17- " The Legend of Satchmo." Grandpa takes the Rugrats on their first camping trip -- in the middle of the deep, dark back yard.
---
1994
Daily repeats of Rugrats begin on Nickelodeon.
Rugrats win their second Daytime Emmy for Outstanding Animated Daytime Program, and their first Cable ACE Award for Best Animated Program.
---
1995

April 13- Rugrats Passover special airs. It's revealed that Didi, Boris, and Minka are Jewish, while Stu, Drew, Charlotte and Angelica are not. Chuckie and Chas do not subscribe to any religion
---
1996
December 4– Rugrats Chanukah special airs.
---
1997

May 6- "Mother's Day" was first aired, featuring the whereabouts of Chuckie's mom. This show was nominated for an Emmy.

July 8- "Vacation" the first direct-to-video Rugrats episode was released.

September 27- "Dust Bunnies" aired. This episode featured a special 3-D segment and was part of a special week of 3-D programming called "Nogglevision."
---
1998

September 21- "Family Tree" Didi discovers that she is pregnant.

November 20 - The Diapered tots made their feature film debut in The Rugrats Movie.
---
1999
Rugrats movie grosses $140 million worldwide.

January 18- "Chuckie's Duckling" Dylan Prescott "Dil" Pickles made his television debut.

March 27- In "Ghost Story' The Rugrats meet the Real Monsters. This was Klasky Csupo's first crossover episode.
---
2000

November 19 - The Rugrats In Paris movie debuts, makes over $76 million domestically.
---
2001

January 15– Rugrats in Paris' Kimi mades her TV debut in the Season premiere.

July 21- Rugrats 10th anniversary special airs. We get to see the babies "All Growed Up."
---
2002

Feb 22 - Chas and Kira open the Java Lava coffee shop

Sept 9 - The Rugrats babysitter Taffy joins the cast
---
2003

June 13 – The Rugrats Go Wild, the third Rugrats movie, is released

September - The All Grown Up series begins on Nick!
---